*This post contains affiliate links to help me pay for fabric rehab*
Hey! Remember when I said I was going to take a break from testing? Yeah, me neither.
So I tested the new
Itch to Stitch Lisbon Cardigan
that released today. This is absolutely perfect for me as I'm a cold human that works in a large warehouse where I still have to dress professionally. So when I saw the style of this cardigan, I had to test it! What a great excuse to make more work clothes. :D
*If you haven't sewn an Itch to stitch pattern, you are in for a treat. The designer, Kennis, is a detail hound and you won't get through one of her patterns without learning something unless you've been a professional tailor for decades. Her patterns are very professional, yet completely approachable. If you want to test one out first, she always has the
Lindy Petal Skirt for free here
!* (Picture linked on sidebar)
The Lisbon Cardigan features
-Long sleeves
-3/4 length sleeves
-Full length
-Cropped length
-No hemming, everything is banded!
-Sleeves not cut on fold
-All pieces are notched
-Directions where to interface and which type to use
-Layered printing
-Sizes 00-20
-Tips on Hong Kong finish for seams
I sewed a size 2 for the chest, 0 for the waist, and 4 for the hips according to the size chart and the fit is spot on. The sleeves are the perfect length where they just slide over your hand a tiny bit. The over all fit is slightly relaxed but still fitted if that makes any sense at all.
My buttons are done pretty well, but the spacing is just slightly off on the actual buttons! It will get better with practice, but see that small pucker? Also, my bottom button is way too close to the edge. I only noticed after the button holes were done. Oh well, all part of the process. The next one will be even better. (You know it's a garment I like if I have a next one planned already)
I sewed this up in sweater knit that I bought from
Sincerely Rylee
last year in one of her mystery boxes that I don't think she does anymore. However, I got a great deal on lots of sweater knits and this was absolutely perfect, however I'm not sure of the exact fiber contents. If I wanted something a little lighter I would probably choose a rayon spandex blend or a cotton Lycra. Maybe this would be cute in a Ponte, too? So many things to try. I'd also like to do a V neck hack. (I'm always trying to push it... I don't do well in matronly clothing. :P) I do feel just a little classy in this outfit though. :D

Don't forget, the Lisbon Cardigan is on sale for 20% off right now! :)


Details
Fabric - aprox. $4 / yard for 2 yards = $8
Notions
Interfacing = $2
Buttons $3
Thread = $.50
Estimated total cost = $25.50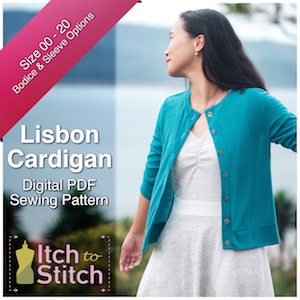 I did receive the pattern for free in exchange for testing it before it was released.